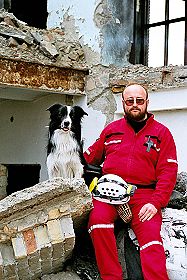 I am a freelancer dog photographer, but mostly I work for the magazine of the Hungarian Kennel Club – aKUTYA. I work for the Dog World magazine also usually.
I had a Rough Collie bitch, now I have a Border Collie dog from UK. He is from the show line, but I like him better, as he is a real working dog too. He has a lot of show results, and he is a working rescue dog, we work in the SOS Rescue Dog Team, I am the vice president. In 2005 at the World Championship of SAR dogs we got a silver medal in diaster seaching category.
I started take photos about dogs in 1992, that whas the date, when my first photo was published in the Hungarian magazine. My first great work was the Europe Dog Show in Budapest at 1993. I go every year to the Crufts, to the Amsterdam Winner, and if I can, to the World and Europe Dog Show, too. I live from dog photographing from 1997.
I took photos and wrote reports for the Dog World (UK) since 1996, for the Our Dogs (UK) since 2003, I am an Eastern Europen correspondent for them.
I go every weekend to dog events to shows, mostly, but I have taken photos about hunting dog competitions, hound racings, rescue dog competitions and actions, herding tests and competitions, agility championships, etc.
In 2000 I edited a successful yearbook in Hungary.
I think my clients are statisfied with my work, I get more invitations, where to I can go, every weekend. I like my job, because I can give a nice photos to the people, I like, when they said: is he my dog? Better then in alive!



Kutyafotósként definiálom magam.
Bár írok riportokat, interjúkat is újságok számára, elsősorban fotózni szeretek.
Első fotóm az aKUTYA újságban 1992-ben jelent meg, 1993 óta rendszeresen dolgozom a legjelentősebb magyar kutyás újságnak.
Azóta külföldi újságok számára is dolgozom, az angol Dog World-nek, az Our Dogs-nak, de jelentek meg képeim az amerikai Dogs in Review-ban, a francia Vos Chiens-ben, a spanyol La Revista del Perro-ban, és még sok más újságban, magazinban.
A fotózás mellett aktívan kutyázom, Boci nevű border colliemmal mentőkutyázunk, veszünk részt keresésekben, vizsgákon, versenyeken. A 2005. évi Mentőkutya Világbajnokságon második helyezést értünk el, ezüstérmet szereztünk romkeresés kategóriában.