news - 09/02/2003
Westminster Kennel Club 2003 - United States
---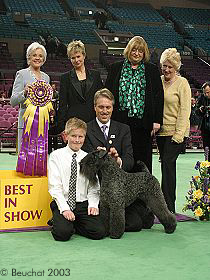 by Carol Beuchat
---
Dog lovers gathered last week at the magnificant Madison Square Garden in New York City for Westminster Kennel Club's 127th Annual Championship Show. From an entry of 2,603 dogs, Best in Show was awarded to the Kerry Blue Terrier Ch Torums Scarf Michael ("Mick"). The win was especially sweet because Mick is now the only dog to have achieved the canine "triple crown", winning Best in Show at Westminster, at Crufts, and at the AKC Invitational this past December.
Dog lovers across America cast aside fears of terrorist attacks and impending war to convene in New York City on 10-11 February 2003 for the 127th Annual Westminster Kennel Club Show, arguably the most prestigious in the country.



Invitations to compete at Westminster are extended to the top 5 dogs in each of the 159 recognized AKC breeds and varieties, with the remaining entries (to the final tally of 2,603) open to Champions on a first-come first-served basis. Competition for these open entries is quite keen, testing the resourcefulness of those willing to pay any price to get their entry in before entries close. Anyone trusting their entry to snail mail surely lost out this year, as entries opened at 8am on December 6 and closed in less than an hour!



The show attracted the top dogs in the country, and Judge Irene Biven ultimately chose as her Best in Show the 6 year old Kerry Blue Terrier, "Mick", Ch Torums Scarf Michael, owned by Marilu Hansen and handled by Bill McFadden. This was Mick's third trip to the Garden in as many years, and he has won the Terrier group each time but failed in his quest for BIS on both previous appearances. This year, however, he was not to be denied.



This win brings Mick's his career BIS total to 113. He is only the second dog in history to have won both Crufts, the largest show in the UK, where he won in 2000, and Westminster. His biggest claim to fame, however, is that he is the first to attain the canine world's "Triple Crown" - BIS at Crufts, at Westminster, and at the AKC/Eukanuba Invitational, which was held for only the second time this past December, but which will be international next year and promises to rival Westminster as one of the year's most prestigious shows.



The German Shepherd "Dallas", Ch Kismet's Sight For Sore Eyes, consistently among the year's top-scoring dogs, was heavily favored by some pundits (and apparently also the crowd) to take the top honors, but he had to settle for a group first in the Herding Group.



In the Sporting dogs, the Brittany "Jester", Ch Magic Sir-ly You Jest JH, returned from a year off the show circuit to repeat his performance of last year with a Group First. Noone can say Jester is just another pretty face; while away from the ring this year he earned his hunting title (Junior Hunter, JH) doing what gundogs are meant to do, bringing home the bird!



Another big crowd favorite this year was the winner of the Working Group, the Newfoundland "Josh", Ch Darbydale's All Rise Pouchcove. The Standard Poodle "Miki", Ch Ale Kai Mikimoto On Fifth, was winner of Non-Sporting Group, and the Pekingese "Les", Ch Yakee Leaving Me Breathless At Franshaw, took the Toy Group. Hound Group First went to a breed not commonly seen in the big ring, the Ibizan Hound "Bunny", Ch Luxor's Playmate of the Year.



As at most dog shows, most competitors go home without a prize. But also like many, there are many more winners than might meet the eye. If there were more prizes to be had, how about awarding these?



Best Behaved - Surely this must go to Miki the Poodle. His leash snapped as he was doing his laps in the breed ring, but he continued gaiting perfectly. He looks great with his handler, Wendell Sammet, but we wonder - does he really need one? (A footnote: At the AKC/Eukanuba National Invitational Championship show this past December, Wendell was selected to be the first recipient of the prestigious AKC Breeder of the Year Award in recognition of his more than five decades of involvement in the sport of purebred dogs.)



Most Versatile - Jester the Brittany proves that we can indeed produce dogs that are not only beautiful, but can also perform the jobs for which they were originally bred. Congratulations to him on earning his Junior Hunter (JH) title this year, and thanks for returning to the Garden again to deliver another stunning performance!



Best Handler - It's every handler's goal to take a dog to Westminster, and it's a dream come true to be in the Big Ring at the final cut. Clint Livingstone found himself in the enviable but awkward position of handling not one but two of the Group winners (the Brittany and the Ibizan Hound). Quite an accomplishment!



And because of Clint's predicament, we have an excuse to make another award...



Make-A-Wish Award - Poor Clint, what was he to do?? He surely made one young handler's dream come true when he handed off "Bunny" the Ibizan hound to Janice Hayes, his teenaged assistant, to take into the Best in Show ring while he showed Jester. Janice was marvelous and showed "Bunny" to perfection, with composure and professionalism far beyond her young years. Janice has been competing in Junior Handler competitions for several years, and it's clear all her hard work as paid off!



Most Huggable - No question, this has to go to Josh the Newfoundland, whose handler, Michelle Ostermiller, most obviously just adores him. And to all appearances, he adores her too. A match made in heaven, and a joy to watch!



Farthest To Go - You have to feel sorry for Les the Pekingese. Just a little guy, with short legs, and so beautiful. But every time he makes a cut he must go around the ring again. And again. And again. And it's soooo far, and he's soooo small. And gosh, all that gorgeous fur, but surely it must be taxing in the overly warm building. And now he must go around yet again... But such a good sport he was. He looked great, even on his very last lap.



Best Sport - Many exhibitors wouldn't bother entering a show they were pretty certain not to win. Surely the option of skipping Westminster this year must have crossed the mind of James Moses, handler of Dallas the GSD, when he learned that the judge that denied him a group win last year was presiding over Best in Show this year. But come he did, took a group first, and was there in the ring on Tuesday night with six other outstanding dogs facing off in front of Judge Irene Biven. Dallas didn't win this year either. But he showed his heart out, and the crowd loved every minute of it.



Most Enchanting - There's nothing like the moment when the ring goes dark and the dogs begin to enter the ring for Best In Show. As they come in one by one and a circle of light follows them as they do their lap of honor around the ring, a great cheer goes up from the crowd. This year as I watched, the Ibizan Hound Bunny entered the ring, and as she picked up speed, her slender, delicate legs moved faster and faster until they disappeared under her in a ball of light. She seemed to float around the ring, a silhouette of elegant simplicity, a petroglyph in light. I'm sure I wasn't the only one that was absolutely transfixed. By the end of her lap, I was in love.



Judge de Jour - It is the greatest of honors to be asked to judge Best in Show at Westminster. And it's one of the toughest assignments a judge can get. Not only must they judge the dogs, they must also remember that their time in the ring is also a performance, appearing live on millions of television screens across the country. And they absolutely must finish exactly on time, lest they throw the programming directorss of thousands of television stations into a panic when they discover they either have dead air time to fill or, worse, the show is going to run over time into the next program slot. This year's judge, Mrs Irene Biven, gave a flawless performance. Well known and very highly respected in the dog world, she entered the ring in a floor length gown that was elegant but not distracting, and she proceeded to judge the dogs with professionalism and authority, thoroughly yet efficiently. From teeth to testicles, every dog was carefully examined, and each was gaited several times under her critical eye. There were seven outstanding dogs in the ring, but few will quibble with her selection of her winner.

Best Supporting Cast - Most exhibitors go home without prizes. In fact, many arrive at the show hopeful but not expecting any. But it's all these other dogs that make this not just a contest, but a Show. Groomed, primped, and preened, they look like a million dollars when they enter the ring and most give it everything they've got while they are there. Win or lose, they give great pleasure to thousand of spectators. It just wouldn't be a Show without them.



Included with this report are photos of some of the Best of Breed winners in each group. How many can you identigy?



You can see how well you did by visiting the web site of the Westminster Kennel Club (www.westminsterkennelclub.org), where complete results from the show are available, as well as information about Westminster 2004.