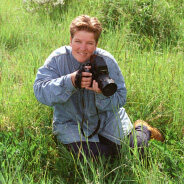 Quality dog photography, especially outdoors, demands a lot of time and patience. To be able to take pictures of dogs, you need sufficient knowledge of each breed. Patience, passion and stamina are the most important qualities a dog photographer needs to possess to be able to reach high-quality results.

Alice van Kempen (1967) from Rockanje, the Netherlands, has been practising photography since childhood. After leaving school she started a career as a photographer. At first she made portraits, wedding photographs and industrial photos. In 1993 Alice and her husband bought their first dog; Jock, a Bull Terrier. And that´s who provided the spark. Jock often acted as a model, thanks to him and Megan (she joined the family in 1995) Alice learned the skills of dog photography. In 1998 she started her own dog photography business. As a nature and animal lover Alice creates photos that really arise from the outdoors. Existing light, composition, use of colours and the subject are the primary elements of her pictures.

Her photographs are widely published in magazines, books, calenders and used by dog food companies for brochures and advertising. She´s got an enormous library of stock photographs, including a rare breed and wildlife section.





Alice van Kempen is een professionele honden fotograaf. Haar foto's worden o.a. gepubliceerd in maandbladen, brochures, boeken & als ansichtkaarten. Tevens worden ze gebruikt door hondenvoer fabrikanten voor brochures en op verpakkingen. Alice heeft een enorm groot aantal stockfoto's in haar archief inclusief een afdeling zeldzame rassen & wildlife.