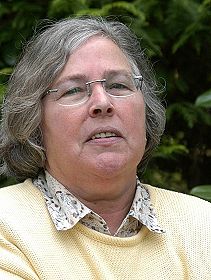 Ria Hörter is involved in pedigree dogs since 1972. Being a publisher and bookseller by profession for many years, she now is a well-known dog writer for the Dutch magazine 'ONZE HOND' and 'THE WELSH SPRINGER'. She also writes for 'THE CANINE CHRONICLE'(USA)and several other club magazines and websites.

Ria is a finalist in the 2005 & 2009 'Annual Writing Competition of the Dog Writers Association of America'. She was nominated for her series "Vanished Dog Breeds" and "Masterminds"-creators of dog breeds, in 'Dogs in Canada', 'The Canine Chronicle' U.S.A.), 'Wuff' (Austria), 'National Dog The Ringleader Way'(Australia), 'De Hondenwereld' and 'Onze Hond'.

On her website (www.riahorter.com) you can find her articles which are available for dog magazines.

Ria writes articles (in English and Dutch) about dogs, dog shows, the history of various breeds, dogs in art, rare breeds, general subjects, interviews, etc.
She can provide photographs and other illustration material as well.

Ria is one of the founders of the Dutch breed club 'Welsh Springer Spaniel Club in the Netherlands'. She was their Secrecretary and Chairman for a long time and is still editor of the Club's magazine. Having bred more than a dozen Welsh Springer Spaniel Show Champions, she exhibited all over Europe in the eighties and nineties.

Ria is a judge for Welsh Springer Spaniels on CC-level under the rules of the English Kennel Club. She is the only person from abroad who is on the A-list of the breed club in the U.K.








Ria Hörter is sinds 1972 betrokken bij het showen en fokken van rashonden. Ze is nu, na haar beroep als uitgever en boekhandelaar, een bekend publiciste van kynologische artikelen in 'ONZE HOND', het nationale maandelijkse vakblad voor kynologen, en in 'DE WELSH SPRINGER'.

Ria schrijft artikelen (Nederlands en Engels) over rashonden in het algemeen, tentoonstellingen, de geschiedenis van rassen, honden in de kunst, zeldzame rassen, algemene kynologische onderwerpen, interviews, etc.

Behalve voor Nederlandse tijdschriften schrijft ze ook regelmatig voor 'THE CANINE CHRONICLE'(USA)en voor diverse andere clubbladen en websites van buitenlandse rasverenigingen.
In 2005 en in 2009 was zij finaliste in de 'Annual Writing Competition of the Dog Writers Association of America'. Zij werd genomineerd voor de series "Verdwenen Hondenrassen" en "Mastermind", die
in 'De Hondenwereld', in 'Dogs in Canada', in 'National Dog The Ringleader Way', in 'The Canine Chronicle' en in 'Wuff' werden gepubliceerd.

Op verzoek kunnen foto's en ander illustratiemateriaal bij de artikelen worden geleverd.

Ria Hörter is één van de oprichters (1976) van de rasvereniging in Nederland: de Welsh Springer Spaniel Club. Jarenlang was zij de secretaresse en tot 2010 de voorzitter. Nu is ze nog hoofdredacteur van het clubblad. Als fokker van meer dan een dozijn Nederlandse Kampioenen heeft ze in de jaren tachtig en negentig door geheel Europa tentoongesteld.

Ria is een gekwalificeerde CC keurmeester (onder de reglementen van de Engelse Kennel Club)voor Welsh Springer Spaniels en keurde dit ras al een vijftal keer in Engeland en Amerika. Zij is de enige persoon woonachtig in het buitenland die op de A-keurmeesterslijst van de Engelse rasvereniging staat.